Captain Bean's Dinner Cruise is known by the locals as the "Booze Cruise". It departs the Kailua-Kona dock in a rather large theme boat in which diners sit around several tables in groups of about 20 or so. The food is not bad (and includes macadamia nuts and scrumptious chocolates), and the entertainment is suitable for families, but still wild enough to be interesting. The dancers do their thing on the tables (after supper), and the climax is when they get a bunch of the guys around the table to don Hawaiian hula garb (the female version, complete with coconut shells), and join the other dancers on the tables. This can be interesting provided both the participants and audience have had enough Mai Tais. For those sober enough to appreciate it, the sunset at the end of the cruise is usually spectacular.
Incidentally, neither my wife nor I drink Mai Tais (or anything else alcoholic), but we did enjoy the cruise.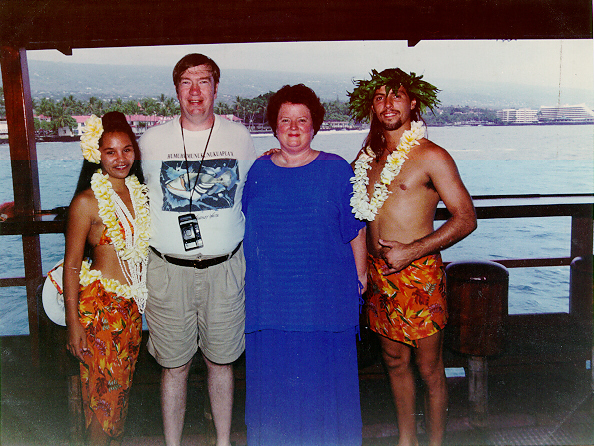 Update: On our trip to Hawaii in 2008, we discovered that Captain Bean's cruises has been shut down. Too bad, you'll just have to imagine what it was like!
Return to Bob's Homepage


AU Homepage
Date last modified: 5/9/2009
Send me mail